Everything you need to know about the beanies bar ✨
Everything you need to know about the beanies bar ✨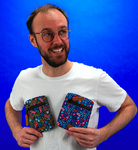 Updated by Gwen
STRENGTH OF THE MAGNETS:
We have reinforced the attachment system: your beloved bobble will stay on your head despite all your falls on skis or snowboard! 🏂
SIZE:
- Adult size: For people with a head size of 54 to 61cm
- Size 6-12 years : For children with a head size from 49 to 54cm
- Size 4-6 years: For children with a head size between 44 and 49cm
- One size for infants 👶🏻
HOW WARM ARE THESE HATS?
Our hats, as well as being beautiful, are super warm!
They all (apart from the Appletini and Hydromel) have 2 layers of material in order to guarantee a tropical winter.
And for even more warmth and cocooning, you can get a beanie with a polar lined!