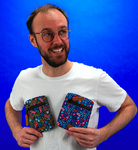 Updated by Gwen
You've got a crush? You're right!
At Cabaïa, you can be sure that you're getting quality products. 👌🏻
Click on the product(s) of your heart, then on "add to cart".
To proceed to payment and initiate the delivery process, click on the basket icon at the top right. If you have not yet filled in your details, you will be asked for them.
Do not hesitate to contact us if you need to 😉