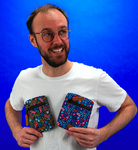 Updated by Gwen
Once your parcel has been given to the carrier you've selected, you can expect the timescales below: 
⇩⇩⇩
COLISSIMO 
(FRANCE)
DELIVERY WITHIN 3 WORKING DAYS
(It is always takes a little more times during holidays and Christmas period)
CHRONOPOST EXPRESS
(FRANCE)
DELIVERY WITHIN 24 HOURS IF ORDERED BEFORE 1PM
(Otherwise, 48 hours)
CHRONOPOST INTERNATIONAL
(EUROPE - APART FROM SWITZERLAND)
DELIVERY WITHIN 3 WORKING DAYS 
COLISSIMO INTERNATIONAL
(SWITZERLAND)
DELIVERY WITHIN 5 WORKING DAYS
If you don't hear about your parcel after the expected time of delivery you can wait for another working day and then: 
1. Check your tracking details through the confirmation of shipping email or through your account (if you've created one).
2. If your parcel seems to be blocked for more than 2 working days you can get in touch with our customer care department in order to sort this out!
Don't forget to provide us with your order number!
⚠️ Deliveries may take a little longer given the pandemic situation.  
⚠️ The implementation of Brexit is slowing down the deliveries
⚠️ Customs clearance are taking a little longer due to the sanitary protocols.
⚠️ Deliveries are taking more time over the the Black Friday or Christmas period.