🏖 Use and care of beach towels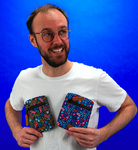 Updated by Gwen
Using beach towels
👛  The pocket on the back of your towel is for small items you want to keep safe from thieves or sand (key, card, phone...)
💦 Our towels have a coloured velvet side for more comfort, it's the one you have to lie on, the other white side is made of absorbent sponge and is used to dry you when you get out of the water
🧳 To store your towel in the bag, fold it until it is the length of the bag and then roll it up to make a nice sausage (I'm not talking about me) to put in the bag
🍄 Don't leave your wet towel in the pouch for too long, it could get mouldy, once you get home from the beach air dry it or wash it.
🌵 Avoid placing the surface on abrasive surfaces such as rocks cutting tar or coatings of this kind to prolong its life.
💧This goes without saying but it gets better by saying it, the pocket at the back is not waterproof, be careful not to get this part too wet if there are things in it.
Beach towel care
🧺 Wash your towel at 30°C or 40°C it's more ecological, it works very well and it preserves the colours even longer
> Oahu & Montessoro towel: provide an anti-fading wipe or dye fixative for the first wash
🌍 Air dry and avoid the dryer, always for ecological constraints and durability of your towel
🚿  To wash the towel, run it under water and rub with a damp cloth, do not put the towel in the machine and/or tumble dryer
🏖  When using the towel daily on holiday for example (or if you are lucky), wash it every 3/4 days to avoid the cardboard effect that can be caused by sand/salt/chlorine build up on the towel
Otherwise, lounge around and enjoy the beach with our towels  🏖🏖