🧦  All about the socks bar 🧦
🧦  All about the socks bar 🧦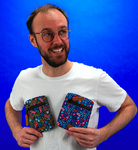 Updated by Gwen
WHAT SIZE SOCKS DO I NEED?
📏Women's size is from 35 to 40. (3 to 6,5 UK size)
📏The men's size goes from 40 to 45. (6,5 to 10,5 UK size)
WHAT ARE THE SOCKS MADE OF?
Our socks are made of combed cotton: 80% cotton, 18% polyamide, 2% elastane.
DO ALL SOCKS HAVE BUTTONS?
YES!
We don't want anyone to experience the trauma of the lonely sock.