👛 Use and maintenance of wallets 👛
👛 Use and maintenance of wallets 👛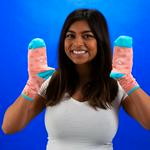 Updated by Synthia
Everything small is cute and practical 🤩
Our mini wallet can hold :
💸 coins and bills
💳 a dozen cards including your ID card
Wallet Usage :
👛 Open the flap on the front of the wallet and slip all your wealth in! Two small magnets are there to ensure the safety of your coins and bills (we even thought of the vigil what).
👛 On the back, two pockets designed to keep your transportation card and your ID card warm
👛 Pull the little tab on the side of your wallet to store your cards. A pull-out card holder system consisting of 6 dividers can hold about 8 cards (loyalty card, bank card, etc...)
Maintenance of your wallet :
💦 You can clean it with soap and water and let it air dry!